Heel Pain Relief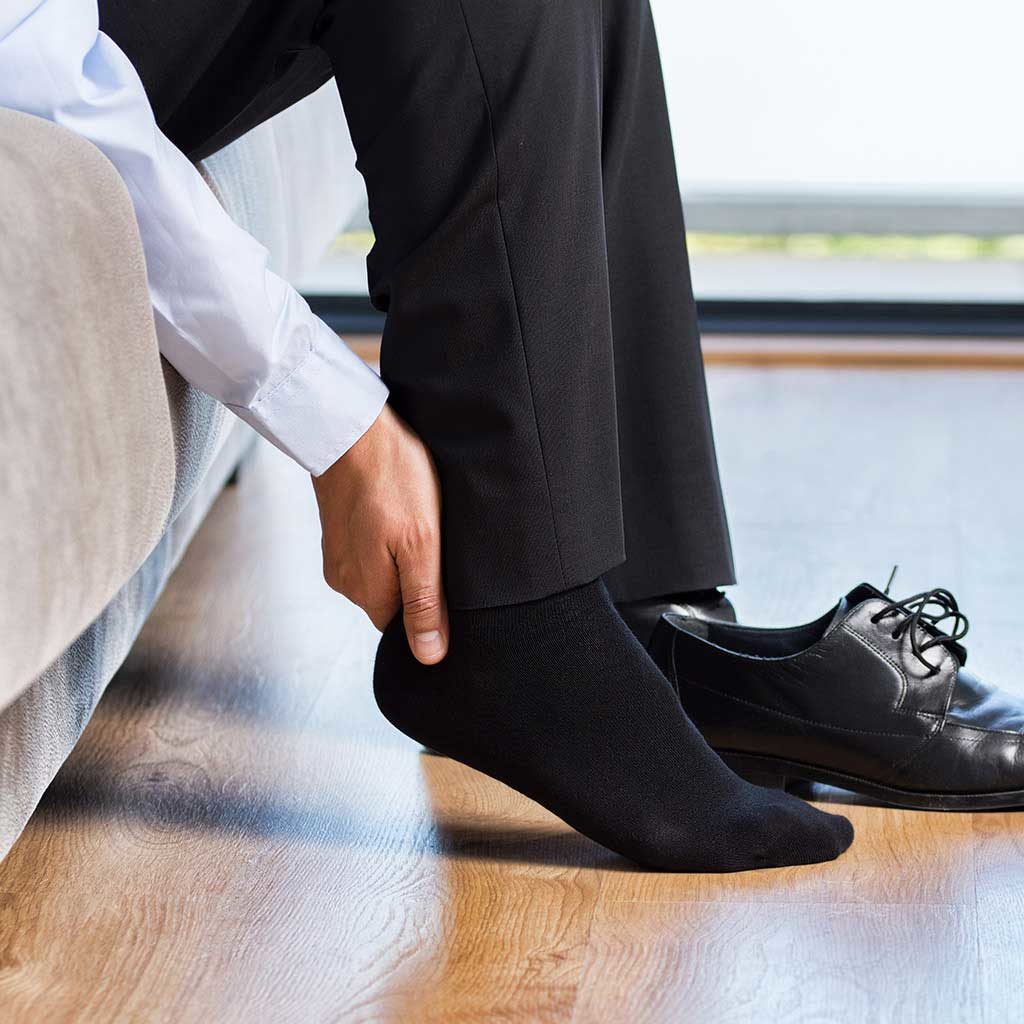 Compassionate Care From Our Experienced Team
Heel pain is a common symptom when you have a condition such as plantar fasciitis. Though this is the most common condition associated with heel pain, your pain could be caused by something else, too, so our job is to diagnose and treat your condition quickly and accurately. We can help you find out exactly what foot or ankle condition you have and bring you fast relief. Heel pain isn't normal, and we make it our mission to help you heal and get back on your feet without pain. If you're experiencing heel pain, call our podiatry offices for heel pain relief in Moore and Edmond, OK, so that we can help you on your way to relief.

Common Causes of Heel Pain
The following list gives you an idea of the most common causes of heel pain. As you can see, the conditions that cause severe pain in the heel are numerous and often accompany one another, making correct diagnosis difficult for all but the most experienced podiatrists.
Plantar Fasciitis - This condition also deals with injury or stress to the band of ligaments that run along the bottom of your foot. In this case, your ligaments begin to stretch and tear, causing them to become inflamed. This condition can accompany heel spurs and is highly painful.
Heel Spurs - Heel spurs occur at the point where the ligaments that run along the bottom of your foot connect to your heel bone. When this ligament is repeatedly stressed or strained, it causes your body to form a protective bony growth, commonly known as a heel spur.
Bursitis - A soft tissue growth on your heel is known as bursitis. This growth is often a sac of fluid or a neuroma. This condition is often mistaken for a heel spur.
Excessive Pronation - When flat arches and ankles that sag toward each other affect your gait, a lot of strain is put on the ligaments in your foot. This strain can cause them to become painfully inflamed.
Achilles Tendinitis - Pain at the back of your heel, rather than the underside, is usually caused by a form of Achilles tendinitis. This condition is caused by tearing along your tendon and can be excruciatingly painful.
Bone Bruise - Your heel bone can become bruised if your heel strikes something hard, such as a rock, a child's toy, or another object.
Rheumatoid Arthritis - Both rheumatoid arthritis and gout can cause pain in your feet, including the big toe and the heel.
Our Treatment Approach
At Oklahoma Foot & Ankle Associates, we have developed a comprehensive heel pain program to alleviate your pain once and for all. The good news is, with appropriate treatment, the pain will resolve 95% of the time without surgery. The longer you wait for us to start your treatment regimen, the longer it will take to resolve, so contact us today to get started!
Experience Effective Heel Pain Relief in Moore & Edmond, OK
To experience our 5-star-rated podiatric care, schedule your New Patient Consultation today by calling (405) 794-6691 to reach our Moore office, (405) 340-9251 to reach our Edmond office, or by clicking here for our convenient online form. Your appointment includes the following:
Discuss Your Goals
Thorough Exam
Discuss Your Treatment Options
Start Treatment the Same Day* in Most Cases!
*Certain minor procedures can be done the same day
During your appointment, we will take the time to answer all your questions about our advanced treatments, our podiatrists, our conveniently-located offices, and anything else you may want to know about us!
---
As one of the premier podiatry practices in Moore & Edmond, OK, our podiatrists and team at Oklahoma Foot & Ankle Associates also provide 5-star podiatry care to patients from Oklahoma City, Norman, Midwest City, Shawnee & Yukon, OK & the surrounding areas.